20% off the adventure
Keen to get outta here AND save while you're at it? This is your new fave page. Scroll on for 20% off selected trips*.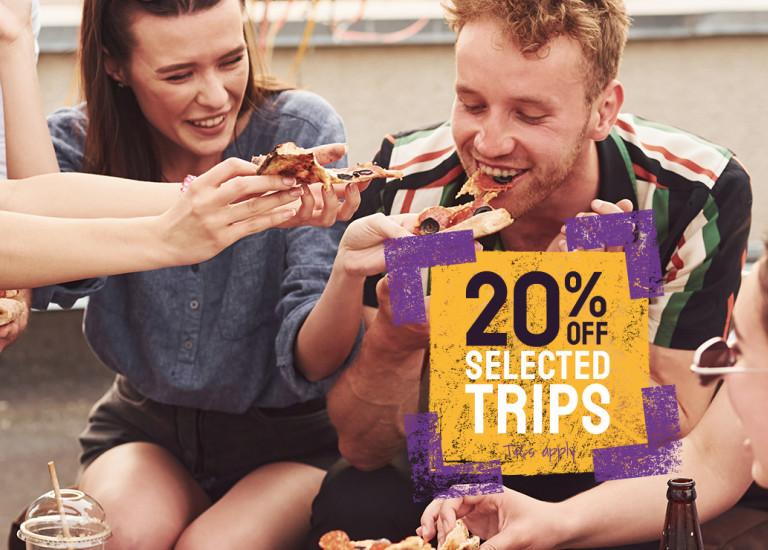 *You entered the chat*
You: I wanna travel Europe between October and March for ALL the winter vibes
Us: we've got 20% off loads of incredible trips* – go get 'em
You: thx!
It's as simple as that. Book by 31 August. Awesome.
Save 20% on these SWEET trips
Up to 20% off
24 days / 12 countries
Start: London
End: London
From
US$3,151.20
US$3,939.00
Find out more
Up to 20% off
Middle East & North Africa | Delve Deep
9 days / 1 country
Start: Cairo
End: Cairo
From
US$1,103.20
US$1,379.00
Find out more
Terms & Conditions
*20% Off Terms & Conditions. 20% off selected departures between 1 October 2022 and 31 March 2023, subject to availability. Discount is only applicable to new bookings made between 3 and 31 August 2022. Through the duration of this promotion customers with existing bookings will not be permitted to cancel and rebook onto the same itinerary and departure date. Discount does not apply to pre- or post- accommodation, short breaks, stopovers, optional extras or transfers. Discount can be combined with one Non-Stop Savings discount (Loyalty Discount, Friend-Zone Discount or Multi-Trip Discount). Customers must be aged 18-39 at time of travel. Topdeck reserves the right to amend or withdraw this offer at any time. For standard booking terms and conditions see www.topdeck.travel/terms-and-conditions.