Search
Your dream trip starts here

Discover Georgia
Yeah, there might be a couple of Georgias on the planet. But the one in Europe? It's unlike ANYTHING you've experienced before. Step right this way for: glittering emerald lakes. The towering Caucasus Mountains. Incredible hospitality, unbelievable architecture and ohmygod the wine. See yourself as a bit of a nonconformist? Say bye to basic, come meet us in Tbilisi and get ready to blaze that trail of yours on a true-blue adventure for the ages. Eastern Europe (and Western Asia) are waiting.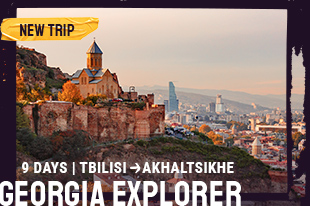 BRAND NEW TRIP
Embark on a scenic hike to Gergeti Trinity Church near Stepantsminda 
Explore the otherworldly 'cave town' of Vardzia 
Eat a traditional homemade lunch with a local family in the Kakheti region 
Topdeck Georgia: Things to Do
Hike to the remote Gergeti Trinity Church

If you're thinking of travelling Georgia (tbh, why else would you be reading this?) Gergeti Trinity Church is probs already on your radar. We know – this place is iconic. And on day 4 of the Georgia Explorer trip, you'll get to seek it out in style on THE (clap) MOST (clap) scenic hike of your life. Our two-and-a-half-hour trek will take us through woodlands, valleys and innumerable other pinch-yourself countryside settings before we get to the big reveal. 

Dive into Tbilisi's unreal nightlife

Tbilisi. Colourful in the daytime, equally colourful at night. Pro recommendations: Lucy Tattoo Studio (a tattoo parlour that doubles as a live music venue). KHIDI (a techno club inside a Soviet-era bridge). Ghvinis Karkhana (a wine factory-turned bar and restaurant complex). Whatever your party-time requirements, this city delivers the goods – so come prepared for delicious food, bars that stay open till dawn, and maybe even a bit of karaoke (if the Georgian wine starts talking). 

See Jvari Monastery and Svetitskhoveli Cathedral

Fact: Mtskheta used to be the capital of Georgia. Fact: it dates back a whopping 3,000 years. Fact: it's full of unmissable structures like Jvari Monastery and Svetitskhoveli Cathedral. No wonder it's got UNESCO slapped all over it! Construction began on Jvari Monastery in the sixth century – and it's remained pretty much unchanged since then. And Svetitskhoveli Cathedral? The famed Robe of Christ is said to be buried here. Minds will be blown. 

Clap eyes on Narikala Fortress

...AKA the giant citadel ruins overlooking Tbilisi. We've got our priorities right, so you'll be checking this one out on day 2 of the Georgia Explorer trip. Made up of two walled sections (and wedged smack bang between the botanical gardens and the Tbilisi sulphur baths), the fortress doesn't only LOOK impressive – it's got the amazing views to match. Make your way up the Old Town's cobbled streets, take in the panoramas over the city and tell us we're lying. 
age