Search
Your dream trip starts here
Discover South America with Topdeck
Jaw-dropping landscapes. Ancient Incan ruins. Sandy white-washed beaches. Bloody delicious food. And that nightlife...there's few destinations around the world that are as synonymous with ADVENTURE as South America. And we've got a brand, spanking new trip heading there in 2020 (oooo, shiny!) 
From the cultural splendor of Quito to the rustic Adean homestays of Yunhuilla, the lush rainforests of the Amazon to the wildlife-rich otherworldly islands of the Galapagos Islands – unlike your recent Tinder matches, this trip seriously delivers. 
Time to stop swiping, we've found the ONE.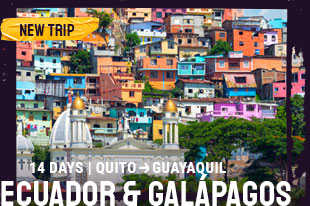 BRAND NEW TRIP
Overnight stay with local Yunguilla family 
Visit the Papallacta hot springs
Full day boat excursion in the Gálapagos Islands 
South America Tours: Things to Do
Stay amongst the Ecuadorian Cloud Forest

Head into the Ecuadorian Cloud Forest for an education in sustainable living and conservation at Yunguilla. Tuck into the local produce, learn all about the community projects, lend a hand with daily tasks and stay overnight in a local family's home. Then: strap on your Nikes and get ready to tackle El Chocal – a viewpoint with stunning photo-ops over the Cloud Forest.  

Visit Cotopaxi National Park

FACT: Cotopaxi National Park is home to the second highest mountain in Ecuador and an active volcano. We'll take a hike around the Laguna Limpuipungo, learn all about the páramo vegetation and admire the snow-capped peak of Cotopaxi. It's a sight for sore eyes if we ever did see one! 

Discover the Galapagos Islands wildlife

What better way to explore this place than on a full day boat excursion? Think: frigate birds, sea lions, green sea turtles and spotted eagles. Then when you thought it couldn't get any better, we'll strap on a snorkel and explore the world below the surface where giant marine iguanas rule. 

White water rafting in the Amazon

Get the adrenaline pumping on an optional full day rafting experience on the Jatun Yaku River. Jump aboard and be reminded of why you're alive as you rush through class III rapids. But don't worry, it's not all wham-bam-thank-you-mam, there's still plenty of time to take in the beautiful Amazonian surroundings as you float down the river. Ready? 

Uncover the city of Quito

Get under the skin of Quito with a guided city tour. Immerse yourself in the colonial history of Ecuador with a walk through the old center, then check out the likes of Independence Square, Bishops Palace, the Quito Cathedral and the ornate La Compañia. Then? do the splits across the northern and southern hemispheres at the Middle of the World Monument.