Our Sailing Trip Style: Hit the Deck
Bright blue waters, ridiculously stunning beaches, a million opportunities to dive headfirst into off-the-beaten track Mediterranean awesomeness… Yep, our sailing trips are pretty much what dreams are made of. The only question is, which will you choose: the Croatia boat life? Or Turkey sailing times? DW – we're here to help you make up your mind.
In the red corner: Croatia, a scorchingly hot destination for SO many reasons. Miles of mind-blowing coastline, full-on Game of Thrones location drama, heaps of UNESCO World Heritage-listed goodness… Climb aboard one of our Croatia Sailing trips and you'll experience everything from perfect paradise to beach bar, in unforgettable places like Hvar, Mljet, Dubrovnik and Split.
In the blue corner: Turkey. Whether you choose Turkish Summer Sailing or Bodrum Sailing, we can guarantee you the following: plenty of swim stops, sun lounging ops, and scenery so goddamn beautiful it'll make your eyes pop. Plus, you'll get to cruise around all day pirate-style in a traditional Turkish gulet (aka boat). Can't say fairer than that.
Picked your winner? Nice. Still undecided? No problem. Keep reading and you'll soon have this whole Sailing thing worked out.
Sailing Trips with Topdeck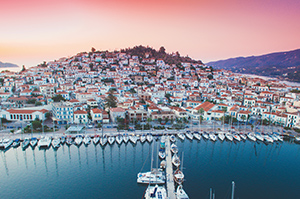 Spend more time in each region
With region-focused itineraries, our Sailing trips give you plenty of time to explore Croatia or Turkey in depth. Spend your days discovering local hangouts, veering off the beaten track and taking the time to do each stop your way – this is your trip, after all.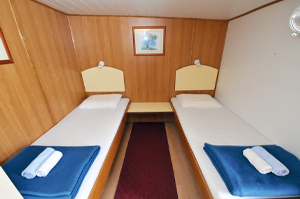 Stay in en-suite cabins
Croatia, Turkey… Whichever part of the sunny Med you decide to set sail in, you'll get to bed down in a comfy twin or double cabin each night. And did we mention all our cabins come complete with en-suite facilities (perfect for rinsing off after all those swim stops)?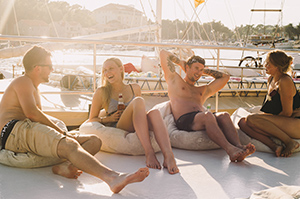 Soak up the sun/make a splash
Wake up. Sunbake. Swim. Repeat. Welcome to a new life, where lounging on deck and cooling off in the ocean are high on your list of priorities. Remember work? Uni? The daily commute? All those annoying little responsibilities? Nah, we didn't think so.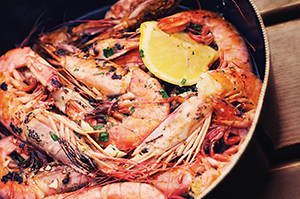 Tuck into local home-cooked meals
All Topdeck Sailing trips come with heaps of included meals. You probs knew that already. BUT, just FYI, these meals aren't your average meals. They're SO much more. We're talking loads of home-cooked local fare that's so good it'll haunt your dreams. We're not even joking.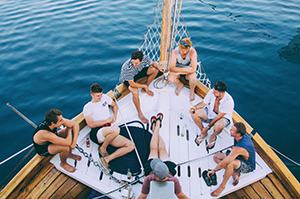 Get social with the group
With all that time spent eating, sun-lounging, sightseeing, exploring and generally embracing classic boat life with your fellow Topdeckers, one thing's for sure – incredible new friendships WILL be yours. Ready to find your people? Welcome aboard.
Bucket List Highlights
An earthquake shook Kekova nearly 2,000 years ago, leaving behind some aesthetically pleasing ruins that you can still see to this day. Wave a flipper to the turtles that call this sunken city home, then cruise on to Simena Castle (where you can wander up the cobblestones for an amazing view of the bay).

Split, Hvar, Dubrovnik… with stops like this on the agenda, you know the scenery is gonna be unreal. From hidden coves, shimmering waters and golden beaches to ancient city walls, incredible national parks and quaint coastal towns, your eyes won't know what hit 'em.

The best way to see those city walls you've heard about in Dubrovnik? From the ocean, 100%. Get a group together, grab a paddle and gear up for a bit of optional sea kayaking. Expect the following: heart-stealingly picturesque spots, some snorkelling time AND a hidden cave beach.
Sailing Tour Destinations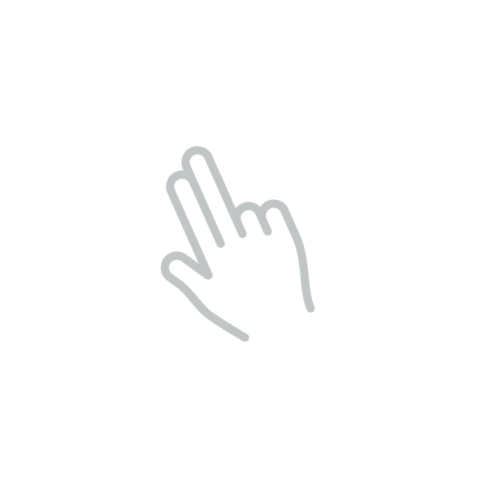 swipe to browse
From Dubrovnik to Split, we've got five Croatia Sailing trips that are 100% guaranteed to float your boat.
Turkish Summer Sailing or Bodrum Sailing? Head this way for the lowdown on our Turkey Sailing trips.